CONTACT US

Treatment of Vascular & Pigmented Lesions
Michael Shohat, M.D., Dermatologist
• Head Dermatologist, Clalit Aesthetic Clinics
• Private practice, Tel Aviv
• Professional memberships:
– Israeli Dermatology Society
– Israeli Society of Dermatologic Surgery
– American Academy of Dermatology
– Israeli Medical Association
Testimonial
What is MaxVP2?

MaxVP2  is an IPL-DPC handpiece designed for treatment of vascular & pigmented lesions, for patients classified as Fitzpatrick skin type I-V. The device employs optical spectral filtering to optimize targeting of hemoglobin and melanin, while reducing the heating of the overlying melanized dermal/epidermal layers.
The handpiece emits 2 bands of wavelengths, 535-680 nm and 860-1200 nm that are absorbed by melanin and hemoglobin chromophores.
How does MaxVP2 work?

The 535-680 nm band targets hemoglobin absorption peaks and melanin, and is better suited for superficial lesions. The 860-1200 nm spectrum is less scattered and penetrates deeper into the skin, providing more uniform heating across the entire diameter of larger lesions. This spectrum is very efficient in enhancing treatments of deeper blood vessels and is efficiently absorbed by melanin. Unnecessary light emission should always be avoided, for safety considerations.

Therefore, only the abovementioned bands are emitted by the MaxVP2. The less desired 680- 860 nm band is blocked. Absorption of this excluded band by hemoglobin is insufficient, and absorption by melanin is already well assured by
the emitted bands (535-860 & 860-1200 nm). This exclusion ensures safety without compromising the results. Therefore, this spectrum is tailored for treating vascular lesions, while efficiently treating pigmented lesions as well.
MaxVP2 Contact Cooling

This solution enables selection of different Contact Cooling levels. Contact Cooling provides greater epidermal protection and enables delivery of higher energies, when compared to other IPL systems, achieving faster treatment times with optimized results. The MaxVP2 Contact Cooling provides further epidermal protection and enhances patient comfort.
Treatments conducted with MaxVP2 handpiece result in clearance of the lesions, achieved by a mechanism of photothermolysis. In addition, only effective wavelengths are emitted, minimizing optional damage to darker skin tones.
Treatment Protocol

• Clearance of the lesion is usually achieved within 3 treatments.

• In each treatment, up to 3 pulses can be applied on the lesion. The first pulse is a test pulse, applying the minimal test parameter. If no response is noticed, fluence can be increased by 1 or 2 joules.

• If partial clearance is achieved, the consecutive treatment should be conducted with the same parameters which proved to be efficient.

•  Interval between treatments should be 2-4 weeks.

•  Pulse width selection [ms]– longer pulses are safer. For small, superficial lesions, shorter pulses are more effective (10-15 ms). For large, deeper lesions, longer pulses should be applied (≥ 20 ms).

•  Fluence selection [J/Cm2] – lower energies are safer. For small, superficial lesions, energy levels must be selected with caution and should not be too high (15-19 J). For large, deeper lesions, higher energy should be delivered (20-25 J).

•  DPC type – Smooth Pulse is recommended for accuracy considerations. Working with other DPC types (high / long) should be confined to rare cases in which the practitioner is highly skilled and the ms are very long.

•  Immediate responses – When treating vascular lesions, an immediate clearance / brightening is expected. When treating pigmented lesions, an immediate response of lesion darkening is expected.
Recommendations

• If the lesion is smaller than the handpiece tip, use of the provided templates is recommended, especially when treating darker skin tones (>3). Place the template on the lesion in order to border the radiant skin area and minimize unnecessary light absorption by the surrounding skin tissue.
• When treating vascular lesions, the Contact Cooling level should be set on "low", since higher cooling might cause the vessel to extract, which could decrease treatment effectiveness. When treating pigmented lesions, the Contact Cooling level should be set on a"medium", for epidermal protection considerations.
• The patient should avoid sun exposure of the treated area for 14 days following the treatment. If sun exposure cannot be avoided, the patient must apply sun block of at least 50 SPF during this period.
• Darker skin tones should be treated with greater caution – longer pulses and lower energies should be employed.

Before                            After 1 treatment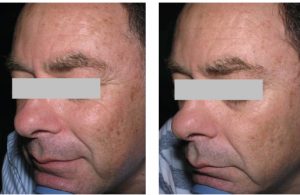 Before                            After 1 treatment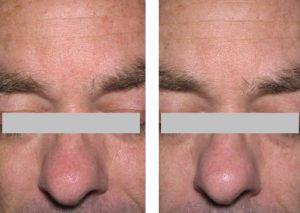 Before                            After 1 treatment
This document reflects the physician's advice and it is not a substitute for any of the details provided in SharpLight's User Manual.