CONTACT US

Dynamic Pulse Control
Dynamic Pulse Control™ (DPC) is our flagship proprietary technology and constitutes an advancement of IPL (Intense Pulsed Light).
When you Choose DPC you are Releasing the SharpLight Experience and Knowhow in Every Pulse
DPC is unique since it allows you to use optimal protocols with high energy level that translate to shorter treatment sessions. DPC technology has a selection of three pulse configurations- smooth, long or high. This flexibility facilitates a range of thermal effects, such as- selective tissue heating to achieve neocollagenesis, increased heat to create a secondary wound-healing response and stimulate epidermal regeneration, and induced thermal damage for lesion clearance.
The Rapid DPC protocol has automatic pulse configurations to guarantee the best outcomes for all your patients, conditions. The device is equipped with a sapphire contact cooling system with two controllable modes making the treatment more comfortable.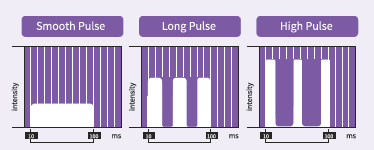 The technology has been clinically proven to safely and effectively treat a wide variety of indications such as hair removal, acne, skin rejuvenation, vascular and pigmented lesions and more.
Our DPC powered devices are equipped with automatic pulse programming which optimize the clinical outcomes. However, if you prefer, you can manually define the settings. The DPC handpieces have been ergonomically designed for ease of use and quick access to all body areas. The handpieces are equipped with a sapphire contact cooling tip with controllable cooling modes, which eliminate the need for consumables such as cooling gels and numbing creams.